| | |
| --- | --- |
| | Join La Raza Unida! |
Join Partido Nacional La Raza Unida today, because only by working collectively will we make real change! This is what you do:

What will YOU get out of it?
An opportunity to be all you can be for your community;
E-mails about things happening for Raza liberation;
Contact with others doing the same as you through the discussion list;
The satisfaction of knowing you are doing something positive!
Basic Line of the Partido Nacional La Raza Unida

The work of La Raza Unida is guided by using rationality to interpret out history, culture and movement. We understand that our liberation movement is an integral part of the movements for liberation and de-colonization of the whole continent of the Americas (Ixachilan). We are part and parcel of that movement. 
   Our Raza Movement, as a pro-indigenous movement, is part of the growing movements for national liberation and de-colonization.
As Raza our task is to raise th consciousness of all people, making it clear that liberation is, in fact, possible, and that oppression, colinization, racism and victimization are not our only way of life. To do this we can:

Elevate our own political consciousness;
Work to unite the Party with people;
Develop our own discipline;
Give support and constructive suggestions;
Follow Party decisions and priorities;
Work to strengthen the Party;
Recruit new people and build relationships with those already in the Party;


 

Partido Nacional La Raza Unida - National Office
P.O. Box 13
San Fernando, CA 91340
818-365-6534
pnlru@hotmail.com

Partido Nacional La Raza Unida - Nuevo México
P.O Box 40376
Alburquerque, NM 87196
505-255-9312
pnlrunm@yahoo.com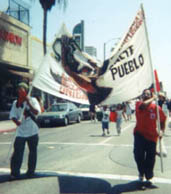 back ! home ! program! info ! interact ! join ! media ! links